You've put on your gear; you've set your music playlist, and filled your water bottle for an intense workout. All that hard work you are about to execute deserves a round of applause. But before you jump right into that exercise, it is important to warmup. Many people underestimate the significance of the first moves they make to prep their body for a workout.
FOR PAIN FREE SESSIONS - A simple dynamic warmup helps keep you pain-free so you can continue with future sweat sessions.
FOR STRENGTH & FLEXIBILITY - Warming up promotes strength and flexibility and will make you less vulnerable to injury so you can train hard.
TO INCREASE CIRCULATION & RANGE OF MOTION - A dynamic warmup increases circulation which will raise your core body temperature. You will boost blood flow to your muscles which will allow for a greater range of motion.
To prepare your body for action, I recommend adding these moves to your routine. This should be performed standing, and you only need to hold the positions for a few seconds.
STRAIGHT LEG KICKS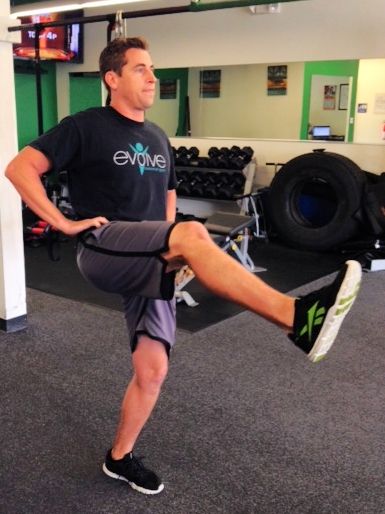 Extend your arms horizontally for balance and kick your right leg to waist level. Keep your leg straight and foot flexed. Repeat with your left leg. Do this 10 times on each leg to warm up your hamstrings, glutes and quads.
STANDING SINGLE KNEE TO CHEST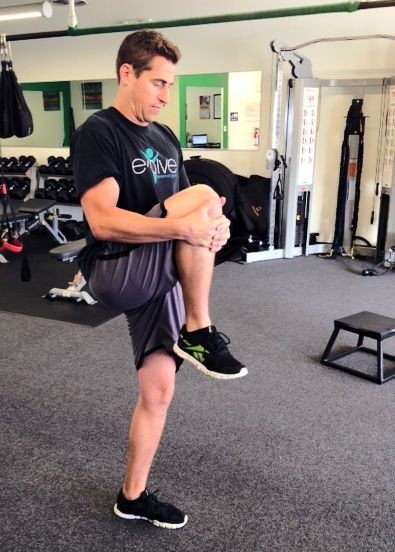 Walk forward standing on your left leg and bend your right knee up toward your chest. Hold on to your right shin just below your knee with both hands to feel a stretch. Repeat 10 times on each leg.
QUAD STRETCH
 Walk forward standing on your left leg and bend your right knee pulling your right foot behind with your hand toward your right glute. Both of your knees should stay close together. Repeat 10 times on each leg to stretch out the front of your thighs.
SKIP SKIP SCOOP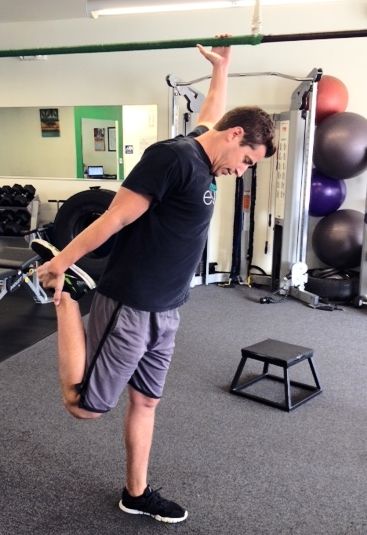 Skip forward once on each leg then extend your right leg out in front of your body into a forward lunge. Keeping your body upright, bend both knees to lower yourself. Your left knee should be hovering just above the ground and your right knee should be making a 90 degree angle with your right knee in line with your right ankle. A stretch should be felt across your left hip flexor (your frontal bikini line). Stand back up, skip on each leg, and repeat the stretch on the other side. Do this a total of 10 times.
LATERAL LUNGE
  Stand with your feet spread wide apart, and your toes pointed forward. Keep your left knee extended and bend your right knee as you lower your body into a squat. Your back should be flat and your hips reaching back like you are going to sit in a chair. Your right knee should be bent directly above your right ankle. Repeat the move on the other side working your glutes and inner thigh (adductor) muscles. Do 10 reps on each side.
This post is brought to you by:  Evolve Gym OC's Brad Williams, Certified Personal Trainer and Specialist in Performance Nutrition,